Nearly everyday I dream of having a big big familyn of my own.
And hanging out with dear, loving friends in my house. With my children and my friends children running around. Cute little diaper bums. Chubby fingers reaching out to me. So sweet and innocent.
The same way my children would think of my friends as their aunts and uncles I would be a caring woman the children of my friends can come to with whatever problem they have.
I want a house full of children, a house full of lovely people, a house full of happiness and warmth. The hot, sticky air filled with the smell of delicious meals, pies and self-made sweet juice. My children with those little fingers smeared with ice cream clinching to my cheeks, smooching my face as I sit them on my lap while chatting with my friends on our porch soaking up those last sun rays.
Sitting at the table.
Enjoying a nice midsummer nights dinner.
And as it gets chilly outside I grab all our blankets and we're all curling up on our porch couches and swings. I would be rocking one of our little ones wrapped up in a blanket, safely, in our rocking chair.
Whispering and quiet laughter and giggles over our sweet babies cooing, sound asleep in our arms.
Feeling a cool summer's breeze on our heat-up, sticky skin, sparkling stars shining down on us whilst mosquito's swirling all busy around our heads, thirsty and anxiously awaiting to fill their own bellies.
Until it's time to put our snuggle bugs to bed. Kissing those pierced lips good night. While hearing our friends car's engine start and the tires rolling over gravel, they driving home – and we, tucking ourselves into bed. Heart full of warm and happy memories.
This is how I imagine my future. Now I do know it's by far not what you'd expect of a 20 year old student talking about her deepest wishes and dreams but I just can't wait for those times to come.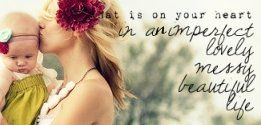 click here for the image on pinterest